BrokenAce (commonly called BA) is a user of Pouetpu-games who joined in 2011 (according to the first level submitted).
BrokenAce

Status

Banned

Gender

Male

Age

17

Location

United Kingdom

Active

No

Website

PG Profile

[link]
Mostly known as one of the principal users who keeps developing hacks for Super Mario Flash and Super Mario Flash 2, being Aced Edition, Cryogenic Edition, Golden Edition, Super Toad Flash, Ultimate Edition, Urban Edition and Neo Edition.
BA has made the most hacks on PG and they are of very good quality. He makes both SMF1 and SMF2 hacks. He is also British.
BrokenAce first appeared to Pouetpu-Games in 2012. BrokenAce used to not be big on SMF Hacking, but his creative levels he had and him bypassing the 9980x limit. In 2013, this all changed when BrokenAce switched to SMF Hacking, and making a NSMB Hack. Today, BrokenAce has the most SMF Hacks currently standing at the record of 7. He has 2 SMF1 Hacks and 5 SMF2 Hacks for you to play, and his recent hack he made was Neo Edition, which is said to be his best work.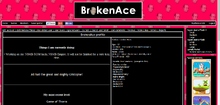 Pouetpu's Mass Banning
Edit
In late 2013, before 09dhowell was promoted to Moderator, Pouetpu has a mass banning and started banning a bunch of users. One of which, was BrokenAce. When Pouetpu banned BrokenAce, he deleted all his levels, and when users saw this, they protested to add them back since BrokenAce had a lot of creative works. Seeing this, Pouetpu shortly added them back, but BrokenAce had to re-upload a few levels and lost many of his reviews he made. This is why his reviews only go up to August of 2013, same with Markeyruiz97.
The last level BrokenAce made was in 2013, and he's currently making a level called Cosmic Cavewalk, which is said to be longest easiest SMF2 level by him. BrokenAce has a couple of series that include Legends of Brokenacia, Super Toad Flash Adventure, and The Collection of Ultimacy. BrokenAce currently has 238 levels, which of most are creative, and is said to be one of the first users to exceed Pouetpu's 9980x limit!
SMF Hacking
Edit
BrokenAce currently has record for the most SMF Hacks on the site, which stands at 7 day. BrokenAce's first hack was SMF2 Aced, but he deleted it months later due to how badly he did at it. Luckily, Popthatcorn14 has it saved in a shareswf that can still be played.
BrokenAce's SMF Hacks
Edit
SMF2 Aced (First hack of BrokenAce)
Super Toad Flash (First SMF1 Hack of BrokenAce)
SMF2 Ultimate Edition
SMF2 Cryogenic Edition
SMF1 Urban Edition
SMF2 Golden Edition (Idea by Popthatcorn14)
SMF2 Neo Edition (BrokenAce's latest hack)