BF10



Status

Registered Strong
(Registered user)

Gender

Male

Age

Unknown

Location

Strong Badia (real life, Unknown)

Active

Yes

PG Profile
BF10 is an user that joined Pouetpu-games in mid- September 2014 (late-October 2014 as of levels). At that time he made very good levels and rated levels closely.
He first started making levels in late-October 2014. In that time he made levels that commonly made it in the best levels section. He also looks closely at levels and review them. However, he reviews games in a slightly harsh manner. He currently have 125+ reviews and 20+ levels.
On early-November 2014, he retired because he lost interest. However, the interest came back in mid-June 2015. He then continues to make levels and rate.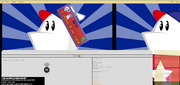 Main article: Far Future Blackout
He did made a series called Far Future Blackout, consisting of 8 worlds. Currently only 1 is done and he is working on the levels on 1.
Main Levels
Edit
He made different types of levels, like Green Greens, Super Strong Bad Bros., and Castle of Elements. He only have a few SMF1 levels. Most of his levels are best levels, but some are good.
He won 3rd in Benvincent917's Easy Level Contest with his level Green Greens. The reason it was 3rd because of an unpredictable Banzai Bill and lack of scenery.
He proven that he has a Ninja Kiwi Account in November 2014. It was made in February 2014, but he retired in it on June 2014 - November 2014, and then again on May 2015.
He contributes in the Plants vs. Zombies Wiki and the Bloons Wiki.